"One doesn't have any business writing about literature unless one's business is literature," writes William Giraldi in his fascinating treatment of critic Adam Kirsch's new book on Lionel Trilling, Why Trilling Matters. Giraldi notes that Kirsch himself is a throwback to critic-as-intellectual and calls him:
"An Ideal critic of the Coleridgean mold, he possesses a swift command of how history, philosophy, sociology, and psychology inform works of imaginative literature."
Giraldi references a 1963 essay by critic Stanley Edgar Hyman who believed that a critic must maintain an active engagement with the predecessors of today's writers. In other words, literature is not simply a product of social inequities or power relationships in the culture, but that writers engage with the great works that came before them; an argument that critic Harold Bloom has been making for years in books like The Western Cannon.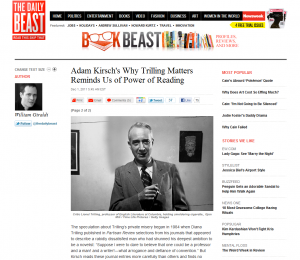 There has been talk for years that Trilling was a frustrated writer. As a professor at Columbia University, Trilling had the young poet Allen Ginsberg in class and was apparently envious of his "Byronic energies" (Giraldi, who is no fan of Ginsberg, asserts he "was start to finish a second-rate poet, his celebrated Howl the sophomoric and technically inept rant of a solipsist." I'm not sure if it has ever been said better). Kirsch puts an end to speculation that Trilling wanted to be a writer; he accepted in his heart that his métier was commentary, not literary creation.
Giradli writes that for Trilling, reading was everything, and "the literary life was not only an occupation but a way of being in the world, a personal and social commitment to understanding who we are and how we fit." Indeed a heady and elevated view of literature that should be resuscitated for our own fractured time.